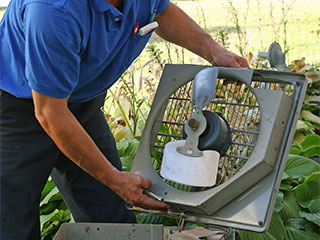 Letting your HVAC unit's health go ignored can lead to a lot of trouble, from it breaking down faster than it should, to lowering the quality of your home's air. That's where our experts come in! Our company can get it cleaned out and working like new again right away.
High-Quality Cleaning Services
You HVAC unit provides your home with air conditioning and heating so that you can be comfortable no matter the temperature outside! Unfortunately, when it draws in air to do this, it also sucks in pollen, dirt, and even smoke if it's around. These substances get trapped and build up over time, creating clogs in your unit that make it more difficult for the air to get through. This leads to energy waste as it has to run longer to compensate, as well as your unit wearing out faster from strain. Along with this, the materials contaminate the air and lower the quality, which can be a health risk. However, there's an easy solution to all of this! Our team will get your unit totally cleared out of these clogs quickly and easily to improve functionality as well as air quality.
Professional, Swift Troubleshooting Assistance
Do you find that your HVAC unit is acting up, but can't determine what the problem is? That's what our company is here for! Our team has years of experience in the field, which means that our experts will be able to get to the root of the problem for you in no time. Along with this, our professionals will then determine the best solution for your needs and budget to solve the issue. Our company doesn't do quick fixes, just long-term problem solving! That way you can rest assured that it the work will last.
Our Team Is Ready To Help
Why not get your HVAC unit tended to now before it becomes a bigger issue later? Our experts will have it clean and your air far fresher before you know it. Contact Air Duct Cleaning League City today for more information!