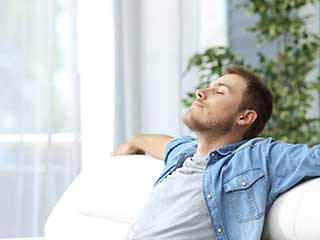 Clean Ducts & Indoor Air Quality
If your ducts and vents aren't cleaned out regularly, you and your family are likely already dealing with the negative side effects of poor indoor air quality. Allergies will remain irritated inside, symptoms of breathing conditions like asthma will worsen, and even those with no medical troubles will find themselves more fatigued. Getting the vents and ducts cleared out can help! This is because the dust and dirt that gets trapped in them is what causes the pollution of your home's air to begin with. Our professionals will carefully and thoroughly get it all cleared out and make sure none of it is able to cross-contaminate your household's air in the process. They'll be sparkling before you know it!
Sanitization Is Also Available
Sometimes your air ducts need more than just a solid cleaning, they need to be sanitized to ensure that your home is safe from any diseases! Rats and other pests may sometimes wind up in the ducts, and their waste carries nasty bacteria that you wouldn't want to be blown inside. It's vital as well if mold or mildew have sprouted in the area, as their spores are dangerous to be breathed in. A sanitation will take care of it in no time!
Need Duct Or Vent Replacement?
Don't worry! We've got that covered as well. If your ducts make a lot of racket when air passes through them, there may be a hole of some kind or shifting that's happened and made the connections loose over time. This means the air isn't passing through as smoothly as it should be and can lead to a lot of issues with your system, as well as increased energy spending. We can replace it and get it working easily again! If a vent has been damaged in some way, we can get it replaced as well.
Don't Wait Any Longer
It's time to take the first step to getting your home's air clean, and call Air Duct Cleaning League City today! You'll only regret not contacting us sooner.
You can also count on us for:
Cleaning Office Air Vents